Plex is a popular media server and streaming platform that allows you to organize, access, and stream your personal media collection across various devices. While you might be currently liking Plex and its features like storing your movies, I am sure deep down you are also looking for a Plex alternative.
Depending on your needs and preferences, you may require specific features that are not available in Plex. For example, if you're interested in live TV streaming, advanced transcoding options, or integration with specific devices or platforms, exploring alternatives can help you find a media server solution that better suits your requirements.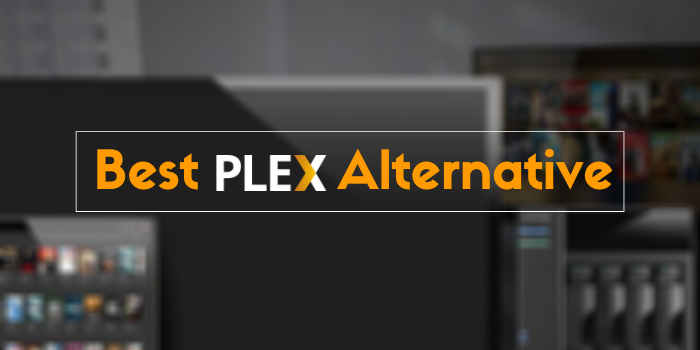 Further, if you have using Plex for a very long time, you might surely feel that Plex's free version has only limited features. Plex has a large and active user community. This sometimes leads to disadvantageously in terms of troubleshooting issues, finding plugins, and getting support.
Hence, Plex alternatives can enable you to solve these problems. However, a cardinal issue that we see most of the users face is finding the real best alternative for Plex. So we are here to solve this major issue and provide you with one of the best Plex alternatives.
Top 10 Plex Alternatives in 2023
While Plex offers numerous features and benefits, it is worthwhile to examine what other media server platforms have to offer. By exploring the available plex alternatives, users can discover different media center solutions that may better align with their preferences and requirements. So let us have a look.
Jellyfin is a compelling alternative to Plex as it offers similar features and functionality while being open-source and completely free to use. Like Plex, Jellyfin requires installation as a server and indexes your local media directories, fetching metadata from the internet to organize your media collection effectively. It supports various media types such as movies, TV shows, music, books, photos, and even live and recorded TV.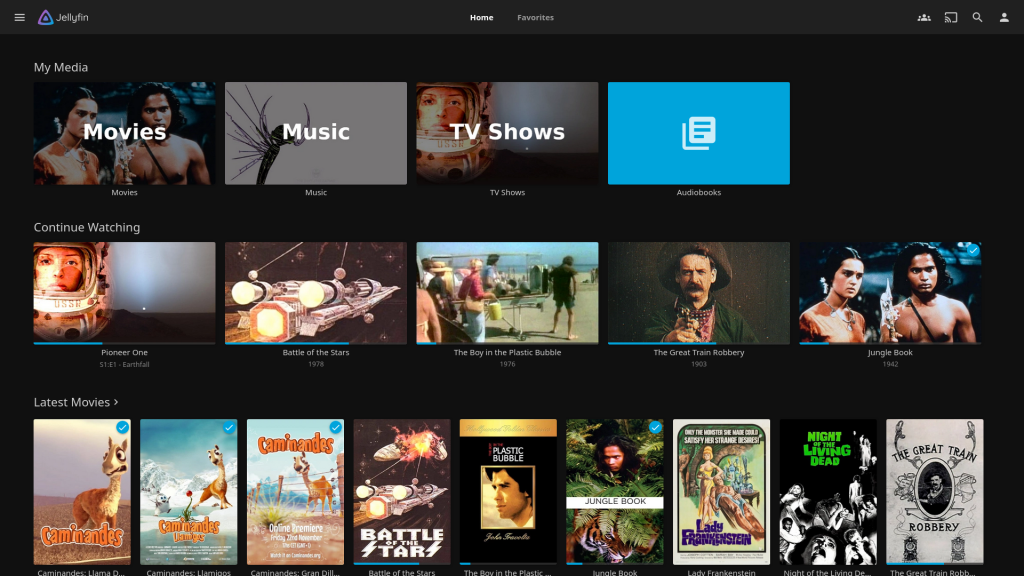 The server component is available for multiple operating systems, including Windows, macOS, Linux, and Docker. Jellyfin can be accessed through web browsers, official desktop clients, Kodi and Roku plugins, Android and iOS apps, WebOS TVs, and even Apple TV. While Jellyfin lacks a library of live TV channels and streaming content, it doesn't restrict features like hardware transcoding and DVR functionality. Users can try out Jellyfin using the Jellyfin Demo available on the project's homepage.
| | |
| --- | --- |
| Advantages | Disadvantages |
| 1. Free and Open Source | 1. Limited Content Availability. |
| 2. Feature Parity with Plex and cross-platform availability. | 2. Potential Complexity in Setup |
Kodi serves as another good plex alternative for several reasons. The foremost is that it is also a free Plex alternative. Kodi offers a high level of customization and flexibility. It allows users to tailor the media center to their specific preferences through a wide range of add-ons and skins. Another significant advantage of Kodi is its strong focus on local media playback.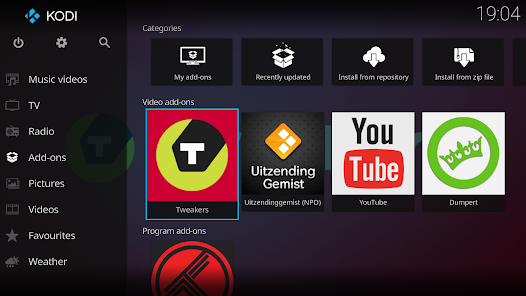 Kodi's platform availability is also noteworthy. It is compatible with a wide range of operating systems, including Windows, macOS, Linux, Android, iOS, and even Raspberry Pi. This broad support enables users to install and use Kodi on a diverse range of devices.
On the other hand, Kodi's standout advantage lies in its platform independence. In other words, Kodi is not bound to a specific platform and can be used across various operating systems without limitations. This flexibility allows users to enjoy the Kodi media center experience on different devices and operating systems of their choice.
| | |
| --- | --- |
| Advantages | Disadvantages |
| 1. Customization and Flexibility | 1. Lack of Official Content |
| 2. Local Media Playback: | 2. Managing updates and add-ons may require some effort and vigilance to keep the media center up to date. |
Mezzmo is a comprehensive multimedia solution designed for Windows users, providing a range of features to streamline content streaming and sharing. With its user-friendly interface, Mezzmo simplifies the organization of your media library, allowing you to easily access content from various sources. That is the reason we consider Mezzmo a great Plex alternative.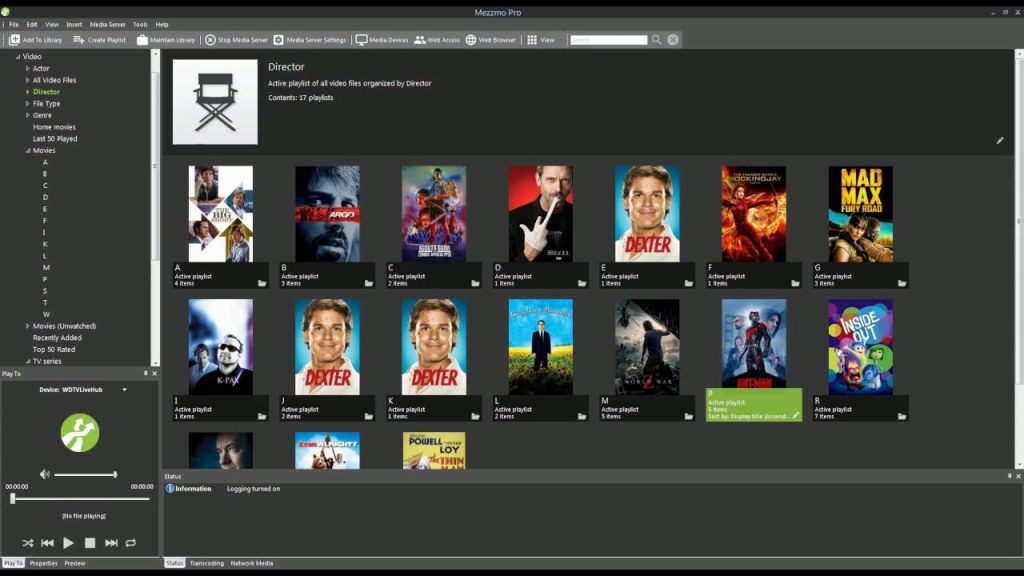 Whether it's mobile devices, external hard drives, or online streaming platforms like YouTube, Mezzmo enables seamless integration. One of Mezzmo's notable capabilities is its support for Windows Media Services, offering enhanced compatibility and playback options. Additionally, Mezzmo provides hardware transcoding functionality, enabling audio files to be converted for smooth playback on different devices.
Acting as a media server, Mezzmo facilitates streaming to any compatible device within your home network or even over the Internet. Whether you require a robust solution to manage and organize your vast collection of audio and video files or simply want a hassle-free method to stream content on the go, Mezzmo offers a versatile and user-friendly experience.
| | |
| --- | --- |
| Advantages | Disadvantages |
| 1. Windows Media Services Support | 1. Mezzmo's features may be more limited compared to some other multimedia solutions. |
| 2. Mezzmo's transcoding feature is beneficial for ensuring smooth playback of audio files on different devices. | 2. Limited Platform Availability |
MediaPortal is an open-source media center software designed to transform a computer into a comprehensive multimedia hub. One of the key features of MediaPortal is its ability to function as a digital video recorder (DVR). Users can schedule and record live TV shows, pause and rewind live TV, and even stream recorded content to other devices within their home network.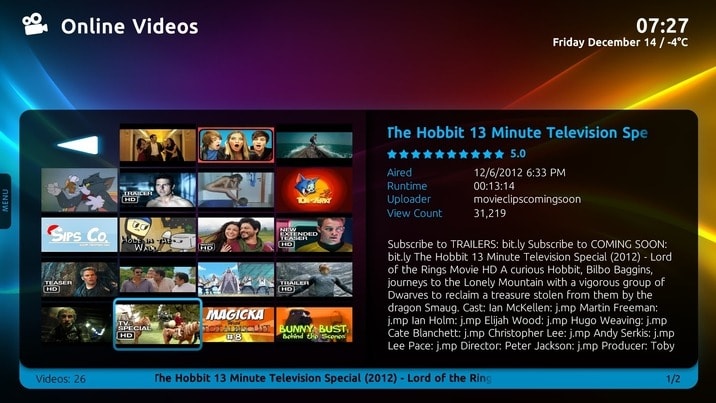 In addition, MediaPortal provides robust library management tools that enable users to effectively organize and sort their media content based on their preferences. Its intuitive user interface and versatile features make it convenient to manage your personal media collection across various devices, including PCs, mobile phones, and game consoles. MediaPortal empowers users with the flexibility to access and manage their media seamlessly across different platforms and devices.
| | |
| --- | --- |
| Advantages | Disadvantages |
| 1. Extensive Plugin Support | 1. Limited Platform Support |
| 2. TV Tuner and DVR Capabilities | 2. MediaPortal can have a steep learning curve, especially for users who are not familiar with setting up and configuring media center software. |
One of the best Plex alternatives that we consider and personally recommend also is Emby. As a media server, Emby allows users to store and organize their media content on a central server. It automatically fetches metadata and artwork for movies, TV shows, and music. Emby is a media server that can be installed on various operating systems, including Windows, macOS, Linux, and FreeBSD.
It is also compatible with NAS drives like FreeNAS, Synology, and Western Digital, as well as Android devices, NVIDIA Shield, and Docker containers. Emby can be accessed through client apps on platforms such as Windows, macOS, Linux, Android TV, smart TVs (Tizen and WebOS), and older devices using DLNA streaming. The best Apple TV alternative is Emby only. Similar to Plex, Emby offers premium features that require a subscription starting at $4.99/month.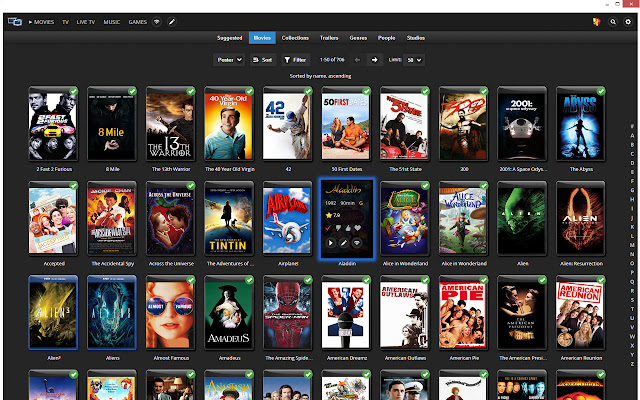 These features include offline media access, live TV recording (DVR), access via specific platforms, hardware transcoding, CarPlay, Android Auto support, and more. Emby focuses on providing convenient remote access to your media over the internet, making it a viable alternative to Plex if you need to access your files while away from home or share them with others remotely.
| | |
| --- | --- |
| Advantages | Disadvantages |
| 1. Emby enables streaming of media content to supported devices, both locally and remotely. | 1. Some users may find the user interface of Emby less intuitive or visually appealing compared to other media server applications. |
| 2. Emby offers robust media management capabilities, allowing users to organize, categorize, and access their media collection efficiently. | 2. It is not entirely free. |
Stremio is a popular media center application that serves as a great alternative to Plex. This is because if you are a user who is looking for extensive integration, then Stremio is the perfect choice for you. Stremio has extensive integration with various streaming services. It aggregates content from multiple sources, including popular platforms like Netflix, Amazon Prime Video, YouTube, and more.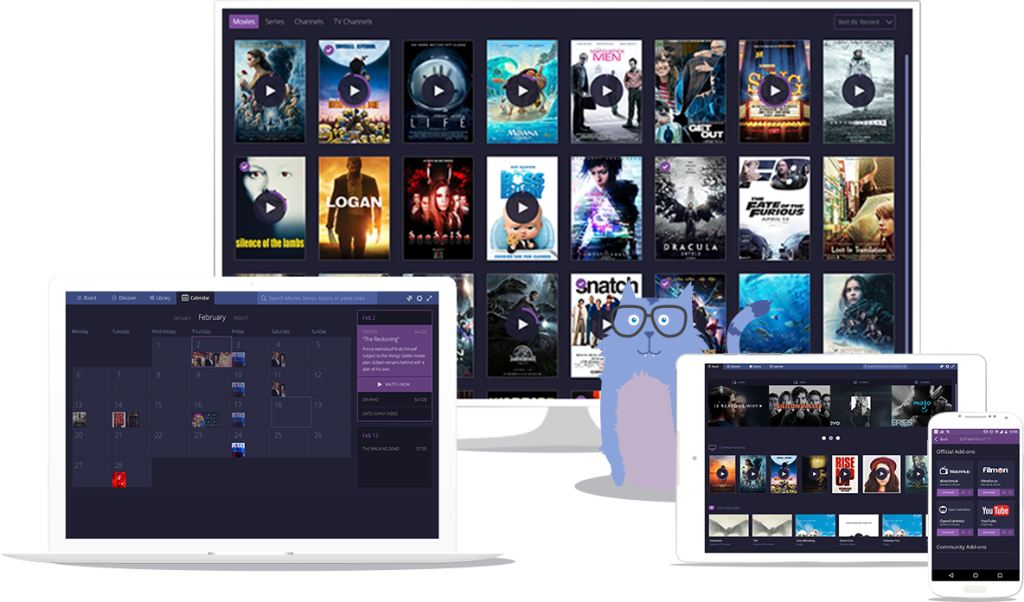 This integration provides users with a centralized hub to access and stream their favorite shows and movies without the need to switch between different applications. Isn't it great? Additionally, Stremio is an app primarily focused on discovery, offering a "Discover" tab to explore trending new releases and streaming content. It comes with a vast library of public domain works, making it a convenient resource.
However, it lacks some of the advanced features and polished interfaces found in Plex, Jellyfin, and Kodi. It does not support DLNA (UPnP), but it does offer hardware decoding and integration with Facebook. Stremio stands out by providing a variety of community add-ons, but users should exercise caution as the content is not vetted by the Stremio team.
| | |
| --- | --- |
| Advantages | Disadvantages |
| 1. Stremio offers a "Discover" tab that helps users explore trending new releases and streaming content. | 1. Stremio may lack some of the advanced features and polished interfaces found in other media server applications like Plex, Jellyfin, or Kodi. |
| 2. Public Domain Library | 2. Stremio does not support DLNA (UPnP) technology, which means it cannot stream media to devices compatible with this standard. |
Infuse is a media player app available for iOS, tvOS, and macOS devices. It is designed to play a wide range of video formats and supports streaming from various sources. Infuse is known for its user-friendly interface and robust playback capabilities. It can access media files stored on your device, network-attached storage (NAS), cloud storage services like Dropbox and Google Drive, as well as streaming from popular media servers such as Plex and Emby.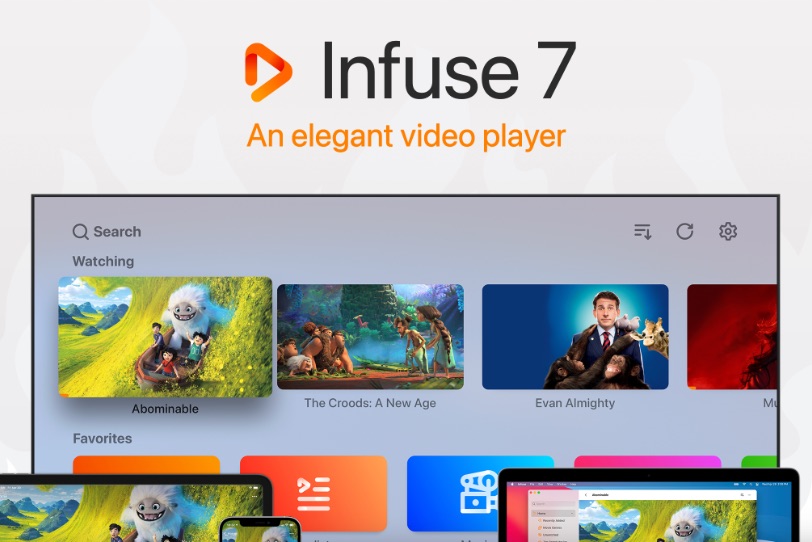 Infuse also includes features like support for subtitles, audio track selection, and the ability to sync your media library across multiple devices. Infuse is also an excellent alternative to Plex for Apple TV too. Firstly, it offers a user-friendly interface that is specifically optimized for the Apple TV platform.
Navigating through your media library is seamless and visually appealing, making it a joy to use. One of the standout features of Infuse is its extensive format support. It can handle a wide range of video formats, including popular ones like MKV, AVI, MP4, and more. This means you can play virtually any media file without having to worry about transcoding or compatibility issues.
| | |
| --- | --- |
| Advantages | Disadvantages |
| 1. Infuse is specifically designed for Apple TV and offers seamless integration with the platform. | 1. Infuse may not be accessible to users on other platforms such as Android, Windows, or macOS. |
| 2. Infuse utilizes hardware decoding capabilities of Apple TV and iOS devices, resulting in smooth playback | 2. : Infuse relies on local media storage, which means users need to have their media files stored locally on their Apple TV or iOS device. |
Serviio is a widely recognized media server application that has established a strong reputation. If you desire a centralized and impeccably organized collection of all your media, Serviio is an excellent choice. Serviio is a popular media server application known for its ability to efficiently perform streaming. This includes various media files, including music, videos, and images, to supported devices such as TVs, Blu-ray players, game consoles, and smartphones.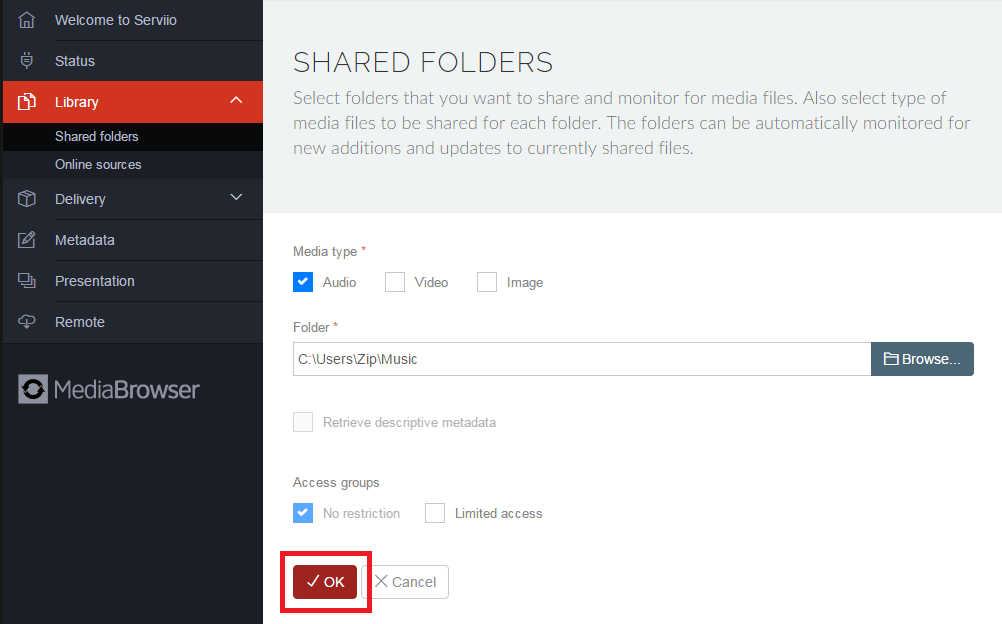 It also offers compatibility with Alexa, enabling users to utilize the virtual assistant for media streaming. Notably, Serviio is a free media server that allows the seamless streaming of media files to any DLNA-certified renderer device within the home network.  Serviio, the media server, is built on Java and works seamlessly with Windows, Mac, and Linux operating systems. For a price of $25, users can access the premium version of Serviio.
| | |
| --- | --- |
| Advantages | Disadvantages |
| 1. Serviio offers integration with Amazon Alexa, allowing users to control media playback using voice commands. | 1. Serviio is primarily designed for Windows, with limited support for macOS and Linux. |
| 2. Automatic Media Indexing | 2. Lack of Built-in Content Sources. |
Universal Media Server is a Java-based open-source media server that serves as a robust alternative to Plex. It provides extensive device compatibility, allowing users to effortlessly stream music, videos, and images to devices supporting DNLA and UPnP. This includes popular devices such as PS4, Xbox 360, iPhones, Android devices, and smart TVs. Universal Media Server is compatible with Windows, Linux, and macOS, making it accessible across different operating systems.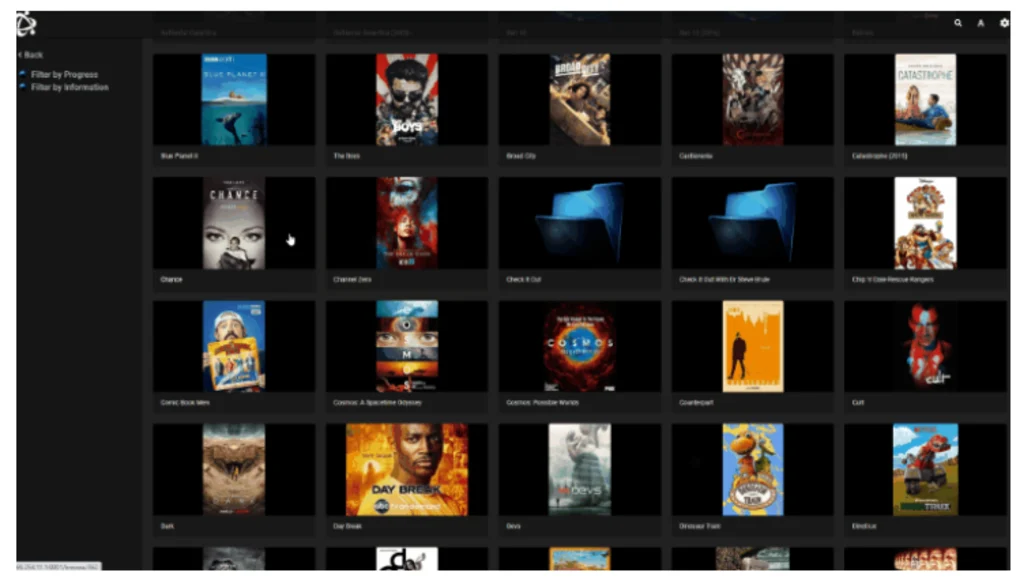 It offers multiple versions and a user-friendly interface, simplifying the setup and management of your multimedia library. The inclusion of parental controls enhances security, and its real-time transcoding capabilities enable easy access to external media sources. For those seeking a powerful personal media server solution, Universal Media Server proves to be an ideal choice.
| | |
| --- | --- |
| Advantages | Disadvantages |
| 1. Extensive Device Support | 1. Compared to some other media server solutions like Plex or Emby, Universal Media Server may have a more limited set of advanced features. |
| 2. Universal Media Server can transcode media files in real-time. | 2. Setting up and configuring Universal Media Server may require some technical knowledge |
TVersity, developed by TVersity Inc., is a proprietary alternative to Plex. Its paid media server package utilizes DNLA/UPnP technology to enable users to stream content from their PCs to a wide range of devices, including web browsers. If the target devices do not support the format or codec of the content, the TVersity server performs real-time transcoding to ensure compatibility.
The media server automatically indexes photos, songs, and videos in the background, ensuring that your collection is always up to date. However, it's worth noting that TVersity only runs on Windows for server operation. TVersity goes beyond personal media collection by integrating useful web content such as free video streams, RSS feeds, and podcasts, which can be accessed through the chosen device's client.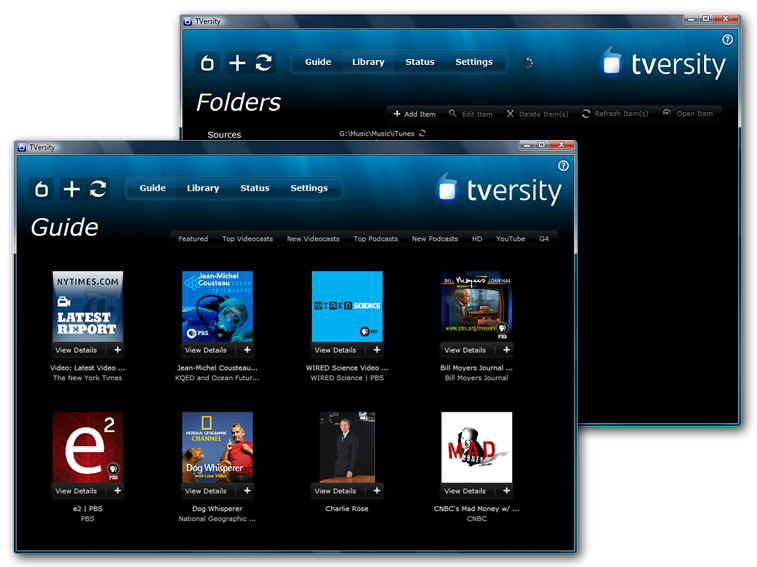 Its impressive performance allows for efficient file retrieval, even for large libraries with over 100,000 entries. The media center features a powerful search mask and an integrated cache function that stores transcoded content, contributing to its fast and straightforward file retrieval system.
| | |
| --- | --- |
| Advantages | Disadvantages |
| 1. TVersity supports a wide range of devices, including smart TVs, gaming consoles, mobile devices, and web browsers. | 1. Windows dependency as TVersity runs primarily on Windows operating systems. |
| 2. Integration of Web Content. | 2. Complexity of Configuration. |
FAQs
1. Does Roku Have Plex?
The Plex app is available for free on various platforms, including Roku, Amazon Fire TV, Android TV, Apple TV, Chromecast, Plex HTPC, Windows, macOS, PlayStation, Xbox, and smart TVs.
2. Will Plex work without the Internet?
Plex generally requires an internet connection to function properly. While certain features and functionality may be available offline,  many of Plex's advanced features, remote access, and media server capabilities rely on an internet connection.
3. When does plex need to transcode?
When the media file format is not natively supported by the client device, Plex will transcode the file into a compatible format on-the-fly for smooth playback.
4. How Does Plex Work?
You start by installing the Plex Media Server software on a computer or NAS (Network Attached Storage) device. This server acts as a central hub for your media files.
Conclusion
In conclusion, several alternatives to Plex cater to different needs and preferences. Each alternative has its own set of advantages and disadvantages. Infuse stands out as a powerful media player with a sleek interface, while Emby offers robust media management and customization options. Stremio excels in content discovery and community add-ons, while Serviio provides reliable streaming to a wide range of devices.
TVersity offers real-time transcoding and integration with web content, and Universal Media Server boasts cross-platform compatibility and extensive device support. Ultimately, the choice of a Plex alternative depends on individual requirements, such as platform compatibility, features, device support, and user experience. Exploring these alternatives can help users find the perfect solution for their media streaming and organization needs.
Hi there! I'm Nousheen, a passionate and creative content writer. I believe in the power of words to inform, engage, and inspire.  I strive to bring that magic into every piece I write. I am always eager to delve into new subjects and translate my findings into engaging articles. Above all, I am driven by a genuine love for writing.