Funko Pops can be one of the most elite collectibles. Funko Pops are not only charming due to their distinctive designs and personalities, but some of them also hold significant monetary value. You can't just tell which is the most expensive Funko Pop in the world only by looking at it. Determining the potential worth involves considering several factors. Limited edition releases, which are produced in small quantities, often tend to be more valuable. The overall value of a Funko Pop is primarily driven by the demand from collectors.

It is impossible to predict the future value of a Funko Pop upon its initial release. However, limited edition Pops generally have a higher chance of becoming valuable depending on the level of collector interest. We have seen so many Funko Pop enthusiasts having doubts regarding the value and worth of Funko Pop. Hence, we are here to address all your queries regarding the most expensive Funko Pop of 2023.
11 Most Expensive Funko Pops in 2023
One would never imagine that the price of a Funko Pop can go up to thousands of dollars. However, Funko Pops that are produced in limited quantities tend to be more expensive. You can also see how the older and vintage characteristics make them the most valuable Funko Pop.
It's important to note that the value of Funko Pops can fluctuate over time, influenced by market trends, collector demand, and the availability of certain Pops. But here are some of the most expensive Funko Pop of all time.
1. Clockwork Orange Funko Pop ($60,000)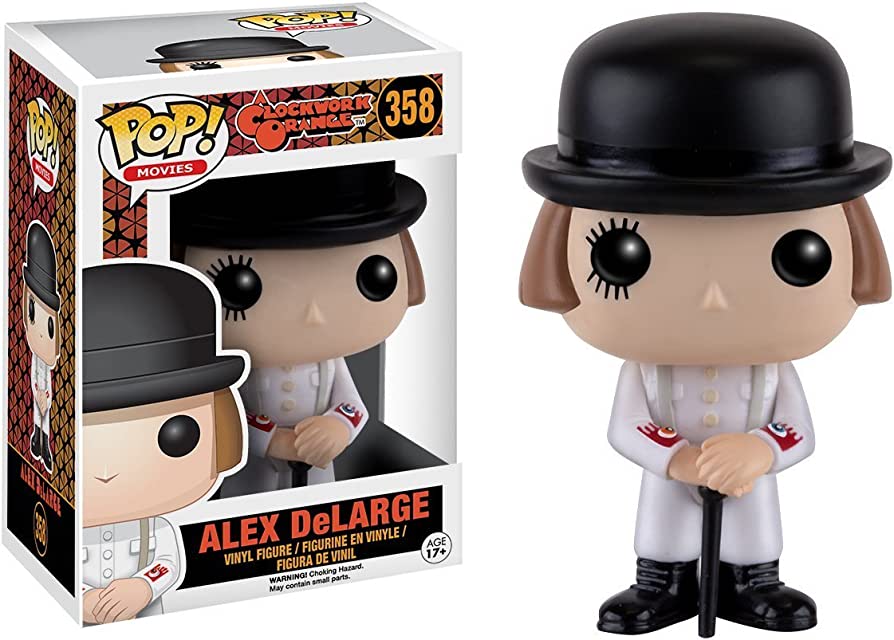 One of the most expensive Funko Pop and also the most valuable one is Clockwork Orange Funko Pop. I am sure it's truly a dream for all Funko Pop lovers. The Clockwork Orange Funko Pop holds a relatively high price as it is a limited edition release. There were only 24 of them that were made.
In the year 2022 also the glow in the dark style was sold for $60,000, which made it the second most expensive Funko Pop in 2022. Moreover, Clockwork Orange has gained a cult following over the years, becoming an iconic film directed by Stanley Kubrick. The non-glow-in-the-dark version was sold for $35,000.
2. Freddy Funko Metallic Iron Man ($43,000)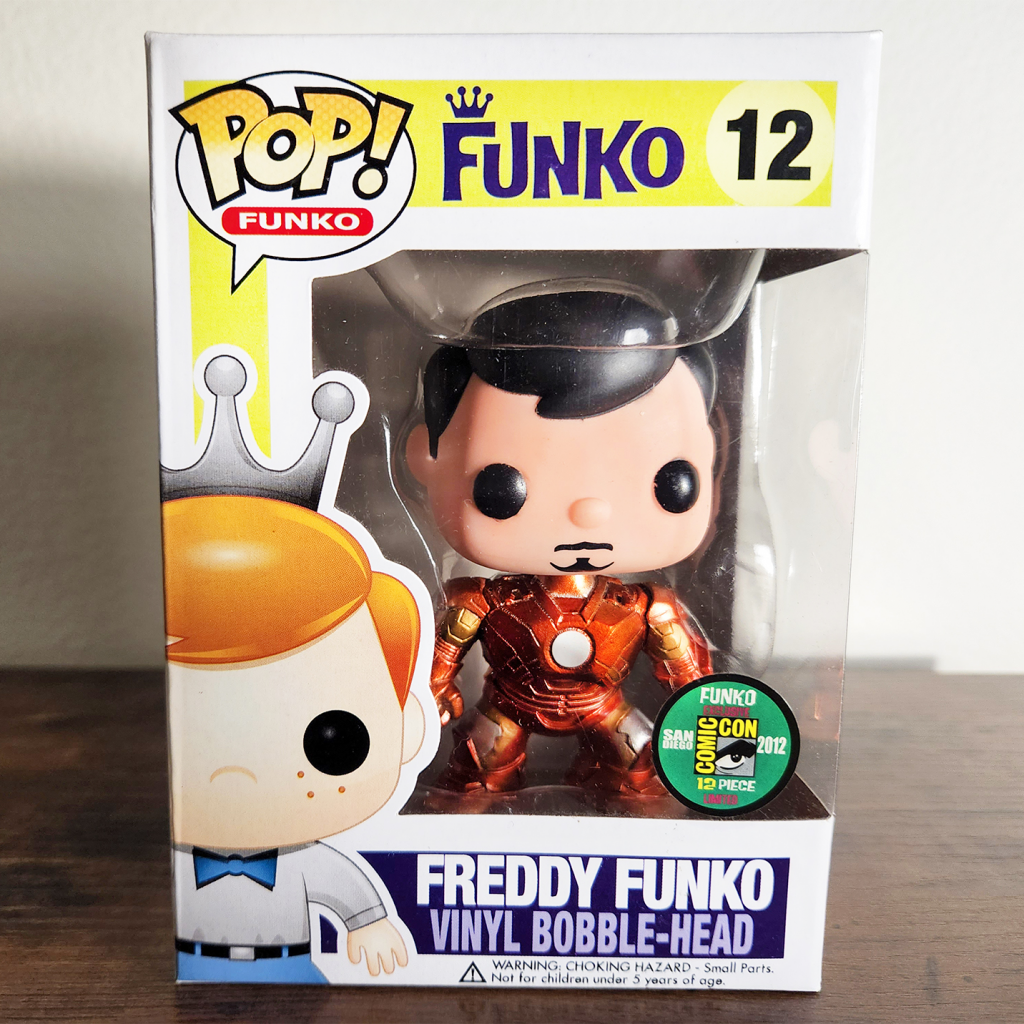 The Freddy Funko metallic Iron Man is considered one of the most valuable Funko Pops. In 2022, it was sold for an impressive price of $43,000 to a collector who also owns a Willy Wonka Golden Ticket set. This particular Freddy Funko variant is exceptionally rare, as there are only two 12-piece sets featuring Marvel characters, and only one of them includes Iron Man. Consequently, it has earned a reputation as one of the rarest and most sought-after Funko Pops in existence.
3. Freddy Funko Buzz Lightyear ($24,000)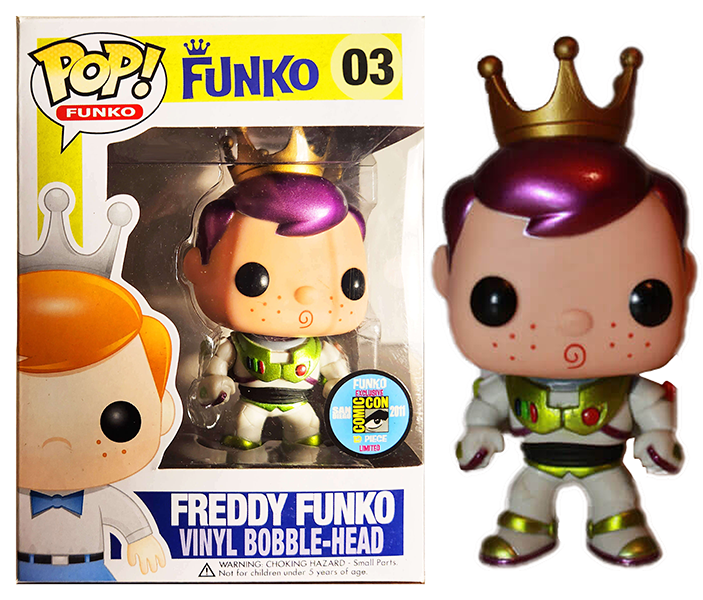 The Freddy Funko Buzz Lightyear Funko Pop is considered expensive due to several factors. Buzz Lightyear is a beloved character from the Disney-Pixar Toy Story franchise, which has a massive fan base. The popularity of the character and the franchise as a whole contribute to the high demand for merchandise, including Funko Pops featuring Buzz Lightyear. Only 25 of them were manufactured and hence it makes Freddy Funko Buzz a limited edition too. It was sold for $24,000 maximum in the year at San Diego.
4. Ghost Rider Metallic Freddy Funko ($23,000)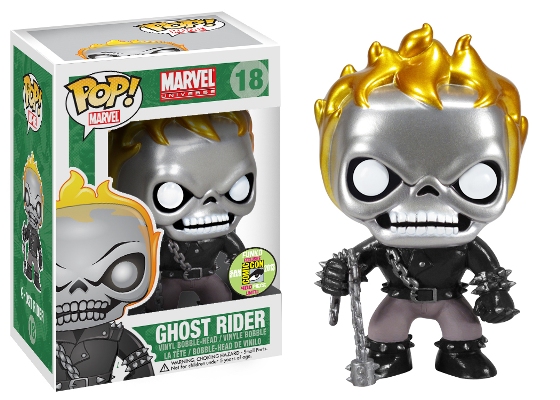 Ranked as the next highly valuable Funko Pop Vinyl on our list is the metallic variant of Ghost Rider Freddy Funko. Priced at approximately $3,390 per Pop, this version of the beloved motorcycle-riding supernatural character grabs attention with its metallic finish.
The metallic Ghost Rider Freddy Funko was initially introduced at the San Diego Comic-Con in 2013. Over time, its value has skyrocketed, with one of these Pops selling for around $5,600 three years later. This significant price increase exemplifies the desirability and worth associated with this rare and sought-after Funko Pop.
5. Jaime Lannister Freddy Funko Bloody ($20,000)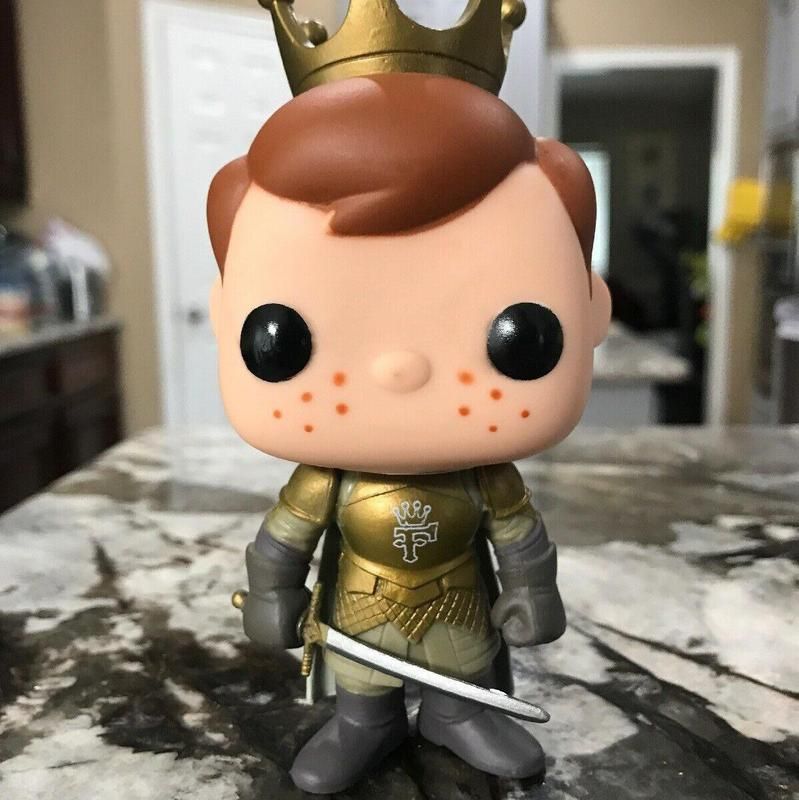 If you're a fan of Game of Thrones, you'll find this Funko Pop collectible intriguing. It's a special variant of Jaime Lannister from Game of Thrones, featuring a "bloody" design, and it was exclusively released at the 2013 San Diego Comic-Con. What makes this item even more remarkable is its current estimated value, which is around $9,310.
However, it's worth noting that previous listings on eBay have sold for as high as $13,500, indicating that the actual market value might exceed $20,000 in future transactions. So, possessing this Funko Pop variant would not only be a prized possession for Game of Thrones enthusiasts but also a potentially valuable investment.
6. Boo Berry Funko Pop ($20,000)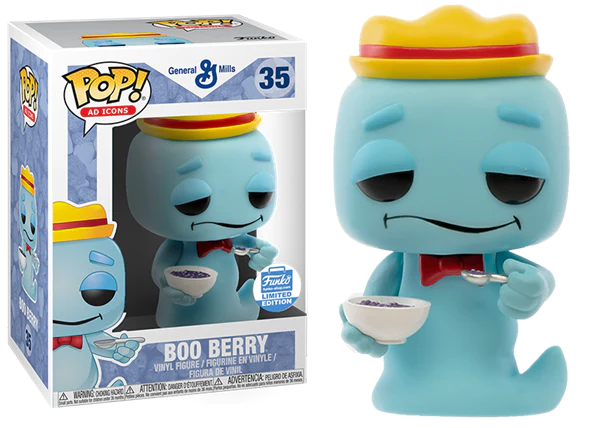 The Boo Berry Funko Pop is a collectible figurine based on the character Boo Berry, who is a part of the General Mills Monster Cereal line. The Boo Berry Funko Pop was released as a limited edition item and is highly sought after by collectors. Its rarity and popularity contribute to its value in the market. It was released back in 2011 and has been a great investment since then. A cherry on the top is that if it's a glow-in-the-dark version it can go up to $20,000. All of this makes Boo Berry one of the most expensive Funko Pop in the world.
7. Freddy Funko as Venom  ($19,090)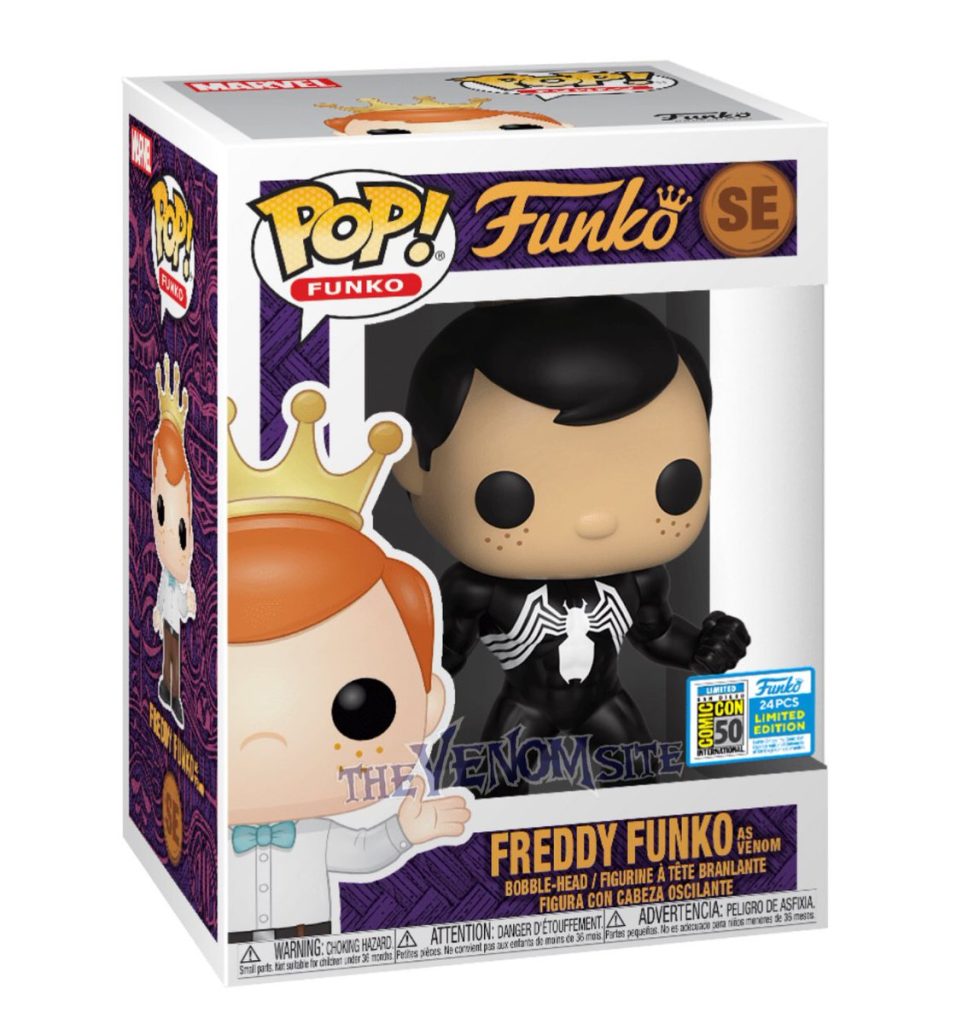 The Boo Berry Funko Pop, distinguished by the "SE" marking in the top right corner of the box rather than a reference number, holds even greater significance. It was also included as one of the items available during the 2019 Funko event, Funko Freaky Tiki Fridays. What truly sets this Funko Pop apart is its extreme rarity.
Only 24 of these highly coveted collectibles were created by Funko, making them incredibly difficult to find. As a result, the demand for this limited edition variant is exceptionally high among collectors. Over the past year, three of these exclusive items were sold, with prices ranging from $8,000 to a staggering $30,800.
8. Stan Lee- Superhero Platinum Metallic ($18,000)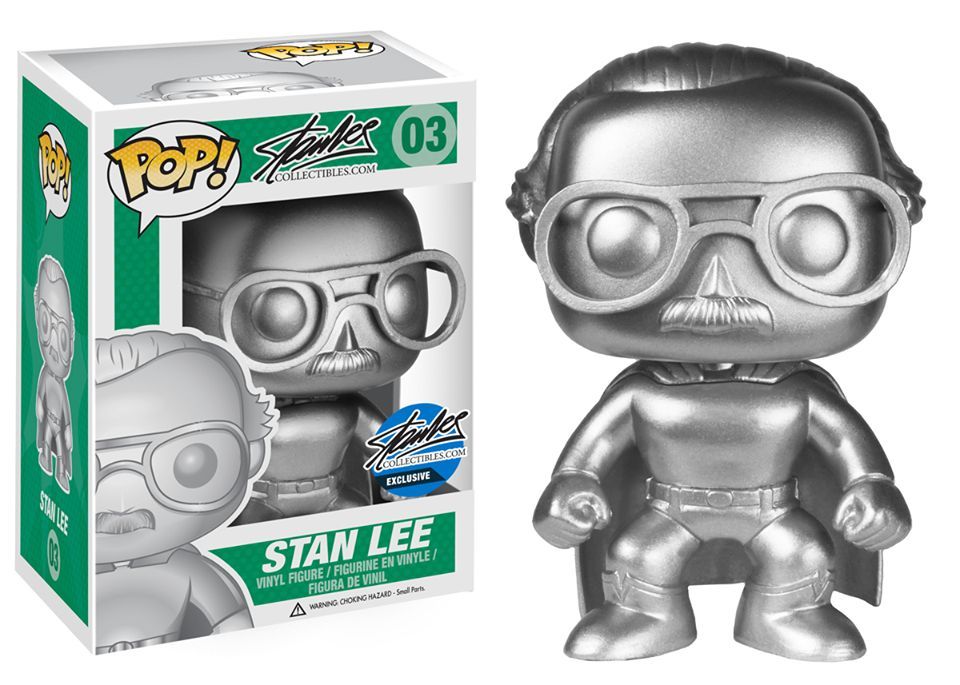 The Stan Lee Superhero Platinum Metallic Funko Pop is a special edition collectible figurine honoring the legendary comic book writer, editor, and publisher Stan Lee. Because it is a Funky Pop based on a real person, it is worth around $18,000. The amount is indeed a well deserving one as Stan Lee was a great pop culture artist.
The Superhero Stan Lee Platinum Metallic Funko Pop is an exceptionally rare collectible. It had only 10 units ever released. It is considered by many to be the rarest Funko Pop in existence. Based on a sale in 2022. The scarcity and desirability of this Funko Pop variant contribute to its significant market value, making it a prized possession for collectors.
9. Freddy Funko (Glow in the Dark)/The Joker ($13,000)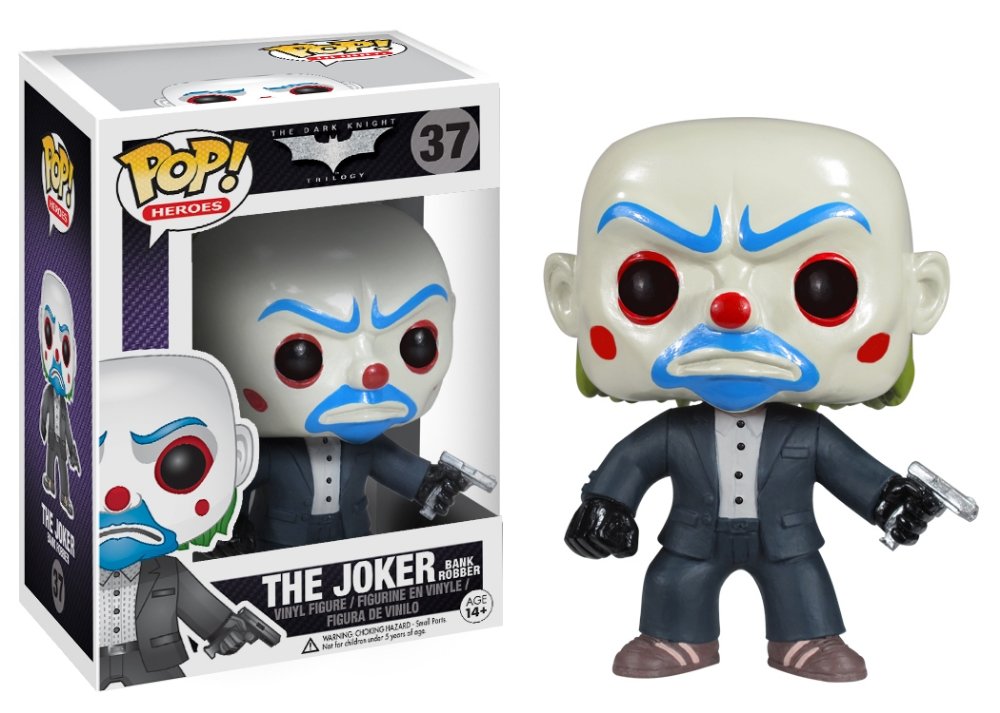 The Joker Funko Pop is a collectible figurine featuring Freddy Funko, a character associated with the Funko brand, dressed as The Joker, the iconic DC Comics supervillain. What makes this particular variant special is its glow-in-the-dark feature, which adds an extra element of uniqueness and appeals to the item. Based on the information provided and various sources, the current estimated price for this Glow in the Dark Freddy Funko/The Joker Funko Pop can go up to $13,000.
10. Freddy Funko Black Suit  ($12,390)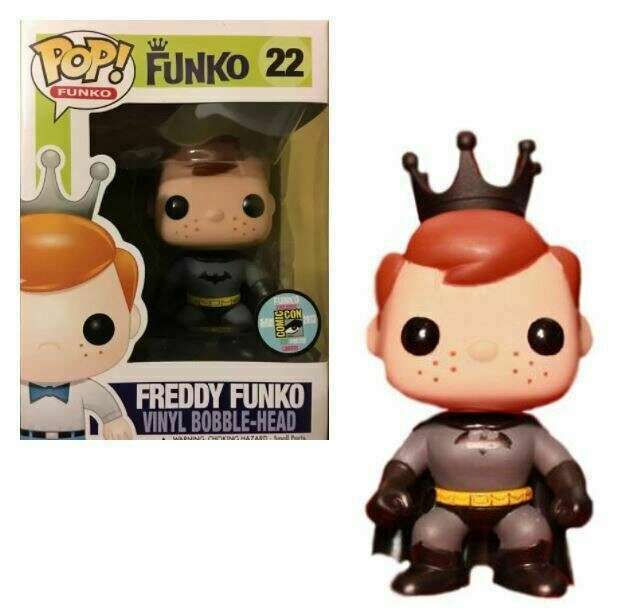 The black-suited Freddy Funko is a highly sought-after and limited edition collectible that was released exclusively for the 2013 San Diego Comic-Con. This particular variant features Freddy Funko, the mascot of the Funko brand, dressed in a black suit. It's worth noting that only 12 of these bobblehead Freddy Pop dolls were ever produced, adding to their rarity and desirability among collectors.
If you were fortunate enough to acquire this exclusive Freddy Funko early on, you're in luck. The scarcity of this item has driven up its market value significantly over time. Verified sales indicate that prices for the black-suited Freddy Funko have soared from around $773.51.
11. Dumbo Funko Pop ($8,400)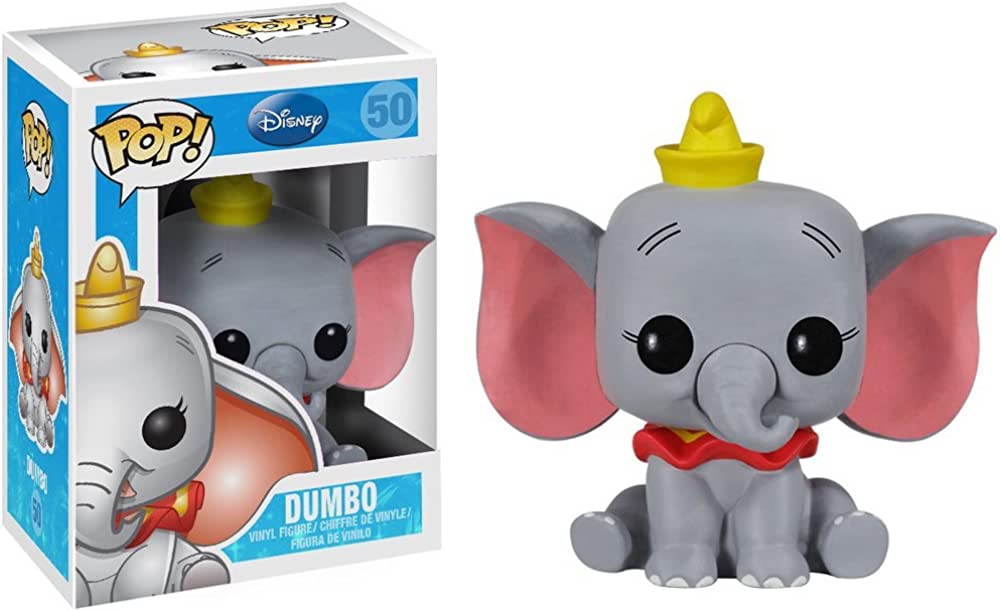 The Dumbo Funko Pop variation featuring the elephant in clown makeup made its debut at the 2013 San Diego Comic-Con. Almost instantly, it became one of the most highly sought-after items in Funko's collection. Due to its popularity and limited availability, the Dumbo Funko Pop variant carries a significant price tag.
Collectors interested in acquiring this valuable piece may need to be prepared to pay around $6,640. The attention and value placed on this particular version of Dumbo highlight its desirability among Funko Pop enthusiasts. It's interesting to note that the newfound attention and value surrounding this collectible could be seen as a metaphorical boost for Dumbo himself.
FAQs
1. Which is the most expensive Funko Pop in Star Wars?
The most expensive Funko Pop from the Star Wars line is currently the 23 Holographic Darth Maul (Glow In The Dark) Funko Pop. This collectible was released as a San Diego Comic-Con exclusive in 2012 and is limited to only 480 pieces. Its estimated value is around $5000.
2. Which is the most expensive Funko Pop sold till now?
Some of the rarest Funko Pops ever sold include the Willy Wonka and Oompa Loompa 2 Pack, which was purchased for an astounding $100,000. Another highly sought-after piece is the Clockwork Orange (Glow in the Dark) Funko Pop, which sold for an impressive $60,000. These high prices reflect the extreme rarity and desirability of these particular collectibles among Funko Pop enthusiasts.
3. Who has the most expensive Funko Pop collection?
David Mebane, a resident of Knoxville, Tennessee, began his Funko Pop collection in 2014. His dedication and passion for collecting these toys have paid off, as he has officially achieved the Guinness World Record for possessing the largest collection of Funko Pops in the world.
4. Which was the most expensive Funko Pop of 2022?
In November 2022, a highly coveted Funko Pop figure was sold for an incredible $60,000, setting a new record for the most expensive individual Funko Pop ever sold. This remarkable collectible is the Clockwork Orange Funko Pop.
Conclusion
Funko Pop collectors and enthusiasts have witnessed the emergence of several highly expensive and sought-after Funko Pop figures over the years. These valuable collectibles often possess unique features, limited production numbers, or are tied to exclusive events, which contribute to their high market demand and prices.
Examples such as the black-suited Freddy Funko from the 2013 San Diego Comic-Con, the Glow in the Dark Freddy Funko/The Joker variant, and the Dumbo Funko Pop with clown makeup have all commanded significant prices in the collector's market. All of these are not only the most expensive Funko Pop but also quite rare Funko Pops.
Hi there! I'm Nousheen, a passionate and creative content writer. I believe in the power of words to inform, engage, and inspire.  I strive to bring that magic into every piece I write. I am always eager to delve into new subjects and translate my findings into engaging articles. Above all, I am driven by a genuine love for writing.